And the winner is...




(ETA: For those being linked here via tumblr and so on, the colours do mean something - it was all discussed a bit back and you can find it if you go through a link hunt starting with the one at the bottom of this entry. But basically it goes like this: black = asexuals, grey = demisexuals and grey-aces, white = sexuals and purple = the community around us, our community.)
I've gone through the results sheet, and anybody who voted twice sorry, you only got one. Well, except the one person who on doing it voted once each time, for different flags. And given I said I'd allow up to four that didn't seem too wrong. BUT, there were grand total, including that, of five people who voted twice under the same IP address. Not too bad, I was half expecting worse. Don't worry, no idea which IP address belongs to who.
Less interesting stuff first.

302 votes have been counted in the week this poll was open.
When asked if they wanted a flag or not four people skipped the question, but of the 298 who answered we get this:

74.8% Yes 21.5% No
When asked which of the following statements fit them best if they'd responded no, and 32 people skipped this question, we get this:

74.8% 'I voted yes'
21.5% 'I don't really want a flag for asexuality but I'm not against there being one either.'
3.7% I don't want one, don't think there should be one and feel actively against the idea.'
So it's an overwhelming majority who either want a flag, or don't mind if we have one. A very small number are actually against the idea. Now, onto the flag choices, it's closer knit than this but the pattern remained essentially the same through the entire thing: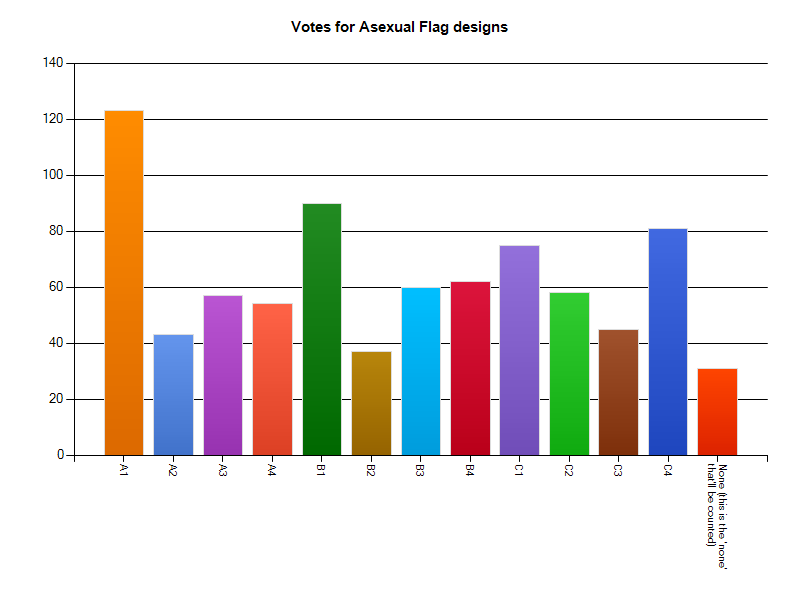 A1 - 41.1%
B1 - 30.1%
C4 - 27.1%
C1 - 25.1%
B4 - 20.7%
B3 - 20.1%
C2 - 19.4%
A3 - 19.1%
A4 - 18.1%
C3 - 15.1%
A2 - 14.4%
B2 - 12.4%
None - 10.4%

Note: It should be noted, some clicked both 'None' and one of the flags. This happened also with the ones just there for formatting if less because of the ignore notes in brackets. In these cases it seemed to be people saying they didn't like any in that column. This isn't true for all, and if anybody wants I can go through each response and count how many just said 'none' and no flag.
This means
A1
is the winner. The margin between it and the three behind it grew and shrank, grew and shrank through the entire thing but it stayed pretty much like this the entire thing. I have no doubt that if this were to continue another month and a thousand people vote, A1 would still be the winner. Not so sure about third and fourth place. Three people skipped this question for some reason I don't get given there was a 'none' option. Once I saw that I closed that ability to skip this one which, to be honest, I'd thought I'd already done.
As has been pointed out on the previous post, A1 has already been used around the place such as on Queer Secrets on Tumblr, even alongside other LGBTQI etc flags
as seen here
so is starting to gain recognition and momentum.
So, I think that's it for flag design. Spread the word on the winner!
Now all we have to do is standardise the colours. Thoughts?
Past post, with links to other areas the poll was posted on and posts even further back is
here
.