You know what guys? I well love tetris and tetris style puzzle games. You know. The sort where you've got to sort stuff as it falls out of the sky.
I think this mainly started with a game called New tetris on the N64 which was basically normal tetris with the added bonus of what we called mega blocks (perfect 4x4 blocks made from 4 bricks). I think my record (which was the best of all my friends) was fiftteen hundred something lines.
I've also spent far too much of my past life playing Dr Robotnics mean bean machine. it's a bit like dr mario only vastly better because of the combo thing.
A few years ago when Iw as with my ex we went through a stage of playing wario's woods together pretty much everyday. She got better than me
nm.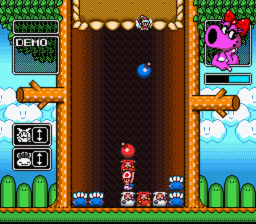 And also I think an honorable mention has to go to puzzle kombat which i had on the DS until I gave it to my brother. It's a little bit simplistic for my tastes but it's addictive none the less.
So yeah! Show me some tetris style game love tbh!